The Nilan Compact P unit offers energy-efficient heating / cooling, hot water and ventilation for residential developments and retrofit projects. We understand that every project is different and are happy to discuss your needs and develop effective solutions to ensure success in your development.
Get in touch with us to request or Retrive a Quote.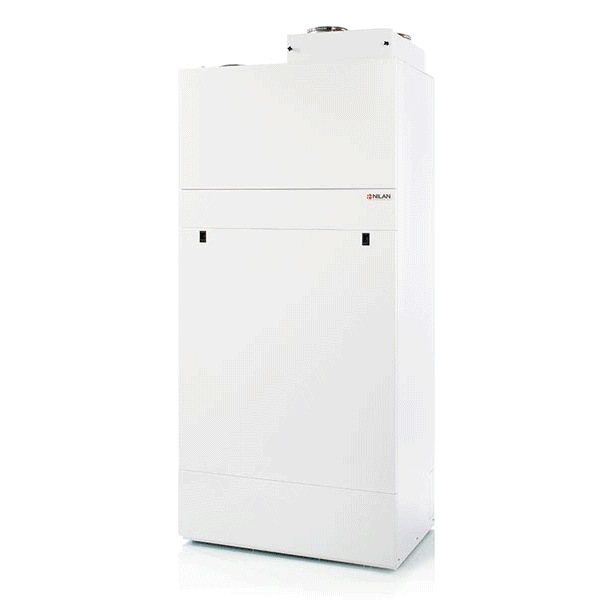 A two-stage MVHR & Exhaust air heat pump with integral water cylinder. The Nilan Compact P is a unique solution for heating and hot water production. The compact unit requires no external components, making it the perfect choice for apartments and small houses.
Based on your needs, the standard unit can be factory fit with additional modules (see modules section for more details).
THE UK RESIDENTIAL DEVELOPERS CHOICE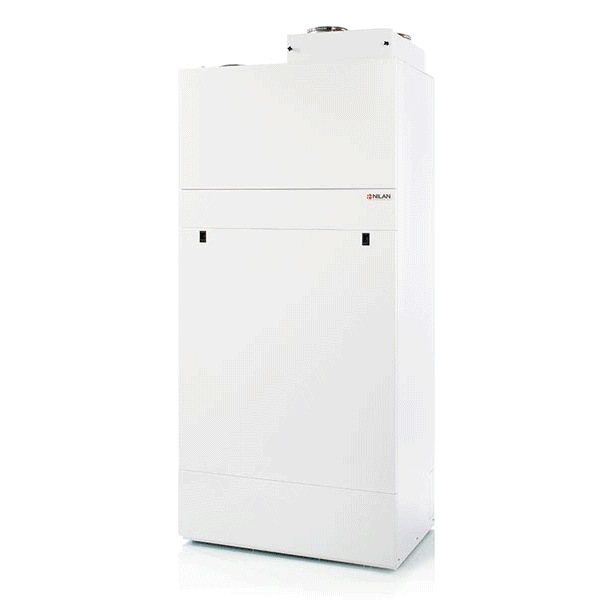 Heats
the Air
Heat that would normally be exhausted is instead transferred to the colder fresh air that enters the home via the Mechanically Ventilated Heat Recovery (MVHR) unit. The remaining heat is passed through the exhaust air heat pump which in turn also boosts heat into the space.
Depending on the performance of the property, an additional support electric radiator may be required to top up the heat on really cold days. This is controlled by the Compact P and is only used as a last resort.
Ventilates
the Space
The unit is built with a 95% efficient MVHR unit that constantly provides fresh filtered air to bedrooms, hallways, living and dining rooms, while extracting dirty and humid air from bathrooms and kitchen areas.
Heat is transferred to the incoming air via the MVHR's heat exchanger while, at the same time, exhausting the stale air. The ventilation runs continuously using extremely efficient low wattage fans, ensuring the occupier gets fresh filtered air 24/7.
Heats
domestic Water
The included 180ltr insulated hot water cylinder is heated using the hot pipes coming off the integral heat pump. This can heat the water to temperatures in excess of 70c, particularly in summer when in cooling mode. The unit is commissioned to 55c and can produce circa 240ltrs of blended hot water; ample for a three bed property.
To ensure there is no risk of legionella, the cylinder comes with a 1.5kw backup immersion heater that can boost the water temp quickly over the 60c required. This can also act as a support during high demands for both heating and hot water.
Optional factory-fit add-on modules
The modules listed here are optional factory fit add-ons for different applications.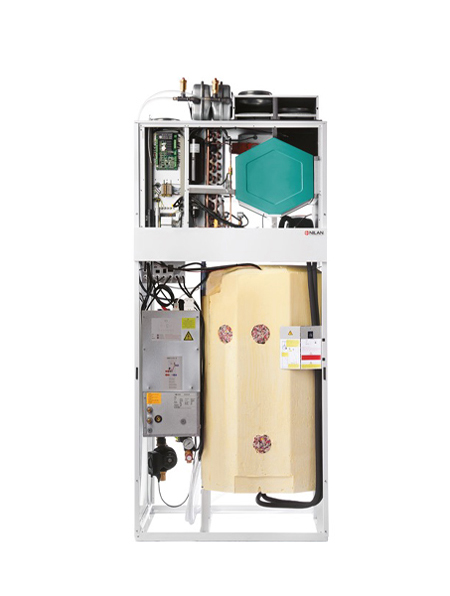 The EK Module
This acts as a boost in properties that are not performing as well as possible. This module is used only if you need additional heat and it is needed to be distributed via underfloor heating or a wet radiator system.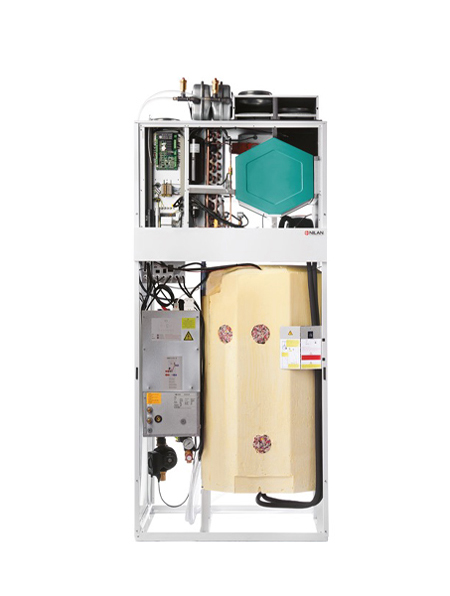 The Geo Module
The energy-efficient and low-noise GEO thermal heat pump heats the home via floor heating or low temperature radiators, retrieving energy from the earth. The heat pump has an electrical power supply to help it function during very cold periods. GEO can also cool the home in the summer with passive cooling, either through the underfloor heating system or fan coils.
Additionally, the GEO ground source heat pump can be used to produce hot water for domestic use, either by pre-heating the water in a buffer tank, or directly in a Compact P hot water tank, if bought with a solar coil.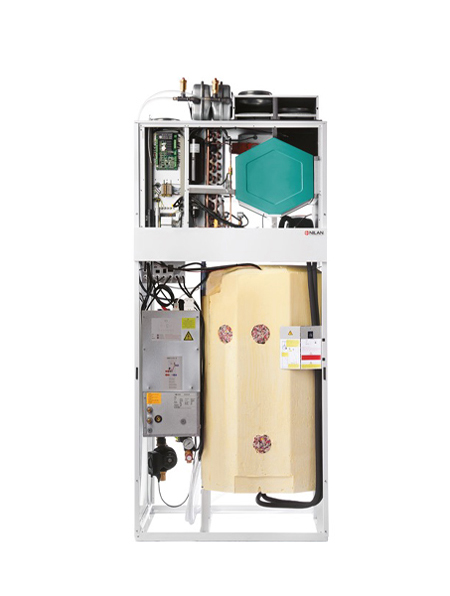 The District Heating Module
This plate heat exchanger is installed to avail of district heating if installed in your area. The low temperature water from the district heating is used to pre-heat the water cylinder and can also be diverted to a heater battery that can be installed either on the air entering the building or the air entering the space. District heating modules can be used to make your development 'District heating ready.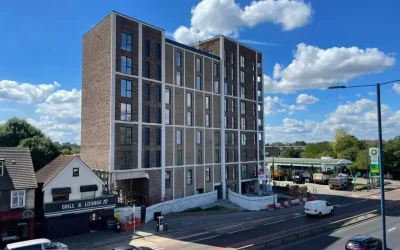 CASE STUDY DETAILS:Customer:A2 Dominion / Fabrica Contractor:Buglar Developments Consultants:AWA Tenure: Social housing and private rentBuilding Type:8 story concrete frame clad. Built to standard Part L requirements but achieving an air permeability of 3 m³/hm². 58...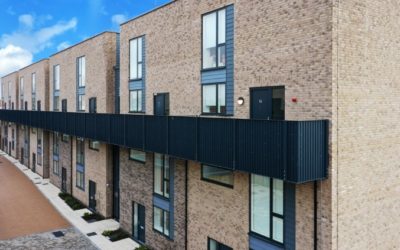 While retrofitting is growing in popularity amongst building owners and landlords is increasing, there are significant barriers preventing wide-scale adoption. In this article, we'll explore some of these barriers and provide suggestions on how to overcome them.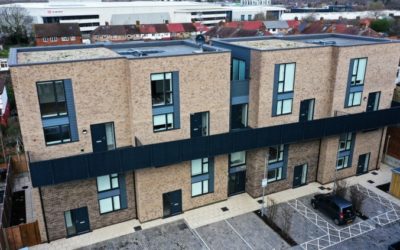 As the UK's residential development market evolves, building owners are turning to MVHR and heat pump …
TESTIMONIAL
"The Team clearly demonstrated their technical knowledge of the system and how it could be integrated into our scheme."
TESTIMONIAL
"The team have been very helpful, with a proactive approach and are always contactable to answer any queries."
TESTIMONIAL
"Excellent support in the design and installation of the units — recommend their use all new build residential projects."
TESTIMONIAL
"Unwavering responsiveness and proactive approach in problem-solving. Excellent choice, particularly for single-family homes and apartment blocks."
TESTIMONIAL
'The technical support in the DD stage of our design process was very helpful and supported us in making the most suitable selection of the development."
TESTIMONIAL
"Mark was very helpful and diligent in the delivery of 21 units from purchase to handling off site."
TESTIMONIAL
"Very good – efficient and thorough, easy to establish pricing and technical data and will certainly be looking to continue working with the team."
TESTIMONIAL
"When I made an enquiry I was very pleased with the information/support received."
TESTIMONIAL
"The team have provided us & our appointed MEP consultants with ongoing technical support on projects from initial concept through to technical design."
TESTIMONIAL
"Service and technical knowledge has been exemplary. Their hands on approach has been appreciated by our client, The Hill Group."
TESTIMONIAL
"Provided excellent technical workshops for the Compact P air source heat pump product with our developer clients and design teams for large residential BTR projects."
TESTIMONIAL
"Our experience with Nilan so far, which covers initial options appraisal up to technical design stage, has been very good."
TESTIMONIAL
"The technical support and product and technology knowledge from Nilan to date, has been great."